Dana El Kurd, Ph.D.
danaelkurd@utexas.edu
Doha Institute for Graduate Studies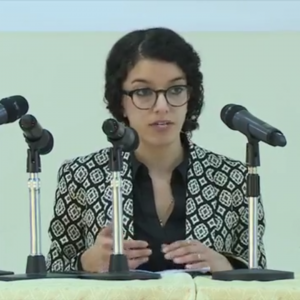 About Me:
Dana El Kurd received her PhD in Government from The University of Texas at Austin in June 2017. She specializes in Comparative Politics and International Relations. She currently works as a researcher at the Arab Center for Research and Policy Studies and as an assistant professor at the Doha Institute for Graduate Studies.
Theoretically, Dana is interested in the conflicts between states and their societies and the contentious politics they produce. She examines how authoritarian regimes try to implement policies and how external intervention may affect their success. Her research lies at the intersection of comparative and IR research, particularly with regards to international influence on regime development.

Substantively, Dana is interested in international involvement and authoritarianism within the Arab world. Her multi-method research focuses on how authoritarian regimes in the Arab world have maintained durability, as well as the societal impact of this authoritarianism on political engagement. Dana writes regularly for publications such as Al-Araby al-Jadeed, The Washington Post's Monkey Cage blog, and Foreign Affairs. She is a member of Al-Shabaka, the Palestinian Policy Network. Her research has appeared in peer-reviewed journals such as Contemporary Arab Affairs, the Journal of Global Security Studies, Middle East Law and Governance, and the Journal of Arabian Studies.
Research Interests
Non-Democratic Regimes
Middle East & North African Politics
Political Participation
Comparative Democratization
Experimental Research
Political Violence
Specific Areas of Interest
Palestinian Politics
Repression
Polarization
Authoritarianism
Legacy Of Authoritarianism
Democratic Transitions
Critical Security Studies
Countries of Interest
Palestinian Territories
My Research:
Dana's book, titled "Polarized and Demobilized: Legacies of Authoritarianism in Palestine," will be published with Hurst Publishers and Oxford University Press, in October 2019. The book explores the mechanisms by which international patrons exacerbate authoritarian conditions. Dana argues in her work that international involvement often creates a divergence between elite and public opinion, as political leadership becomes insulated from public pressure. Such regimes gain their legitimacy from external powers, and their insulation allows them to rely increasingly on authoritarian strategies. Through the use of repression, regimes then polarize their public in a variety of ways. These authoritarian strategies ultimately have an effect on the public's level of political mobilization and engagement. Dana predominantly uses the case of Palestine to explore these dynamics, but also looks at cases such as Bahrain and Iraqi Kurdistan for comparative analysis. She was hosted by Birzeit University as a Visiting Scholar to conduct her fieldwork, where she utilized laboratory experiments, surveys, qualitative analysis, and statistical methods. Data collected includes: an original nationally-representative survey of Palestinian public-opinion, over 50 interviews with decision-makers within the Palestinian Authority, activists, and political leadership, lab-in-field experiments assessing polarization and political behavior, and an original dataset (+50,000 observations) of daily political mobilization across the territories.